Aerial Yoga Classes in Prairie Village
Kids' Aerial Yoga for the Brain & Body
Fun for all ages, abilities, and experiences!
Engaging Mindful Practices That Speak To Kids
Does your child like to SPIN, SWING, CLIMB, and HANG upside down?
At Mindful Child Wellness, we offer therapeutic aerial yoga classes in Prairie Village to help children channel their energy through a mindful and fun activity! Our unique classes utilize evidence-based tools to teach social and emotional learning and mindfulness.
Our regular class sessions are divided into seasonal themes: Spa in the fall, Mindful Eating in the winter, Mindful Art in the spring, and STEM projects in the summer!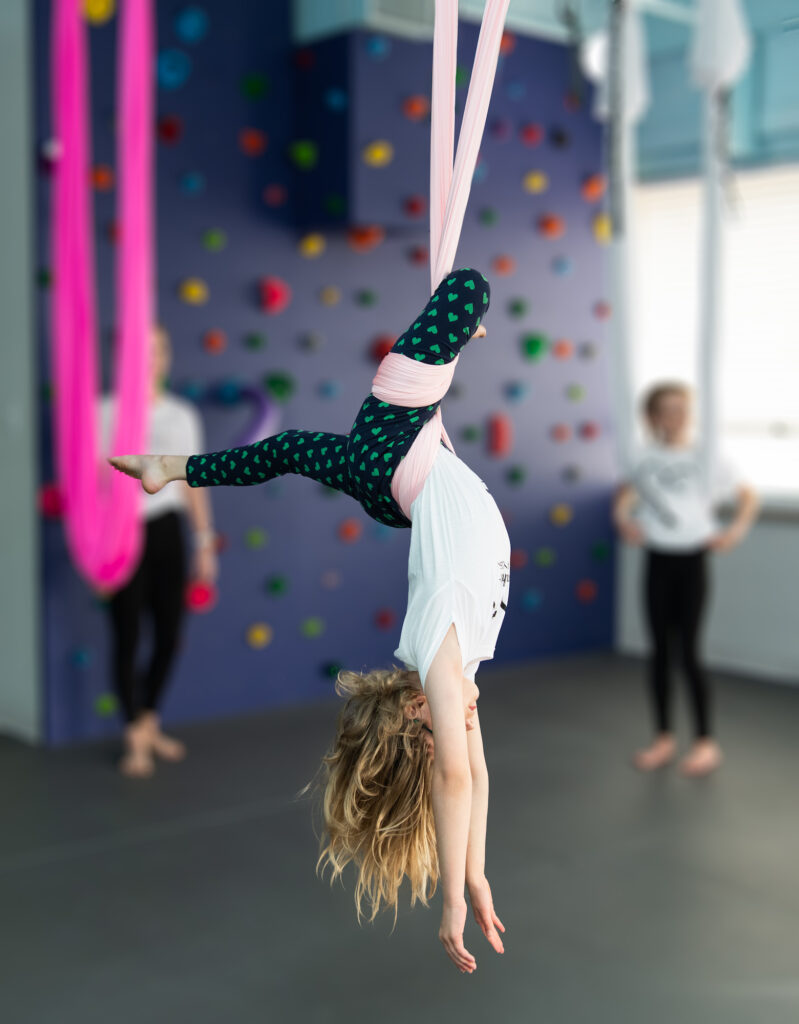 Give it a Try!
If you're not sure if aerial yoga in Prairie Village is right for your child, sign up for a $10 trial class. Though be prepared, kids love our high-flying style of aerial yoga and mindfulness so much that they'll want to come back for more!
Try It!
This 30-minute trial class for new students is a great option for your child to try aerial yoga and for you to observe! They'll learn a few poses to get a sense of how the classes will go and what kind of movements we'll teach.
Sign Up!
Students enroll per session, and a typical session normally lasts for 13 weeks to line up with the seasons. Our classes fill up fast, so register as soon as you know your child wants to keep flying high at Mindful Child!
Have Fun!
Our aerial yoga classes in Prairie Village are the perfect outlet for energy while learning how to be mindful of your body, brain, and well-being. Many of our students keep enrolling session after session for the amazing physical and emotional benefits!
Aerial Yoga for All Ages and Abilities
Engaging Physical Activity
Aerial yoga engages the body and mind by building physical strength, body awareness, and mind-muscle connections.
Backed by Research
The movement of aerial yoga is proven to be safe, effective, and nurturing during children's developmental years.
My daughter visited Aerial Yoga for a Girl Scout Event and Loved It!! She talked about it all the way home and continues to talk about her great experience.
- Veronica W.
I set up an event for my Daisy Girl Scout troop, and it was wonderful. Girls walked in nervous and unsure, and they walked out on cloud nine feeling confident and proud. It was a wonderful experience from start to finish.
- Angie S.
My daughter participated in a Girl Scouts Event and loved it! Great sensory play, added plus - working on strength and flexibility in a different way. The instructor was fantastic!
- Karen M.
Took our Girl Scout Troop to help earn a badge focused on wellness. The girls absolutely loved it and claim it is one of their favorite activities we have done.
- Melissa C.
I have worked with Tracy for the past seven years and have watched her use her skills as a psychologist helping children with autism, anxiety and ADHD. Tracy has worked with early childhood age children with great success. Tracy has also been very successful with older children ranging from elementary school age through high school. Tracy's creative ways of working with children meet both their sensory and cognitive needs. She is always there to answer questions or make suggestions when a situation arises. Tracy understands the long-term commitment it takes to help children become successful in the world.
- Dr. Thomas K. Lawson, Director of Special Education
My daughter has been going to classes at Mindful Child for about 10 months. She also attends private sessions with Dr. Tracy. She loves going to classes, and also her private sessions. My daughter's confidence has improved so much, it has been life changing for us. I'm so thankful to have found a wonderful professional, who truly cares about helping children.
- Happy Parent
Dr. Tracy Daniel does an excellent job of teaching children aerial yoga and mindfulness. Tracy takes the utmost care to make sure her facility is clean and safe with properly secured yoga hammocks and a cushioned floor. She makes sure each class is staffed so each child has a helping hand and encouragement when needed. Each group lesson is thought out to provide a variety of activities to stimulate physical and mental growth in each child.
- Parent
I have attended Dr Tracy's Level 1 and 2 Mindful Child Yoga Teacher Training and they were both phenomenal! The knowledge she brings with how to incorporate mindfulness and yoga with kids and teens is amazing and truly life changing for students and teachers both. She is changing our world one breath and yoga pose at a time! I'm truly grateful for all she has taught me!
- K. Shipley, Physical Therapist
My preschool classroom has been lucky enough to have Tracy Daniel visit multiple times and demonstrate her yoga skills with the children. Each time she has visited, she has brought innovative yoga sequences that are fun and teach body awareness skills to the children and teachers. She has been extremely patient and always explains the moves in simple ways. The children are excited to share what they have learned with their families and they talk about Tracy's visits for days!
- L. Cramer, Preschool Teacher
Our son, Jack, is 10 years old and has been diagnosed with ADHD, OCD, anxiety and autism for 8 years. Tracy does a great job of incorporating a sensory therapy session with fun yoga poses. Jack started off with a yoga schedule board and has steadily improved his poses and strength to where now he can incorporate yoga into a fun story time flow. She shares her routine with us, so we can continue to work on yoga at home as well. Tracy makes yoga fun for Jack and he loves working with her every week. Since working with Tracy, Jack's focus and anxiety have drastically improved. Jack's school has even started incorporating yoga into their routines, as a result of the improvements they've seen in Jack. We highly recommend Tracy's services!
- Happy Parent
I love that Mindful Child teaches my kids the importance of taking care of their brains along with their bodies. The mindfulness skills they are learning will serve them well throughout their lives.
- Dr. Walsh, Neurologist & Parent
Discover The Right Fit
Every child has their own needs and preferences to get the most out of their aerial yoga classes in Prairie Village. Use our program match tool to find the right class for them!
What will my child wear?

Please remove all jewelry! Stud earrings are acceptable. They should wear comfortable clothing free of snaps, zips, or exposed buckles that could snag on the hammock. They should also wear pants, such as cotton pants, yoga pants, or leggings, to protect their skin as they move in the yoga fabric. They will be barefoot for the class, so they will remove socks and shoes at the door.

What should we bring to their aerial yoga classes in Prairie Village?

Please make sure that you bring a water bottle. There is no need to bring a yoga mat, since we practice on padded flooring.

How soon should I enroll in classes?

Because our class size is limited, we recommend that you enroll as soon as you know your child is interested. We also offer waitlists for our most popular classes, so don't hesitate to reach out if your preferred class is full.
Our Policies
Make-up & Cancellation Policy
Mindful Child Wellness does not offer make-up classes and does not refund. We want our students to attend all classes once they are registered. We commit to supporting your child throughout the entire semester, and we hope our families will return that commitment. If your child misses a class, we can always catch them up in the next one due to our small class size.
Drop-Ins
We only offer drop-ins at certain times during the year. If you're unsure whether or not you'd like to sign up for aerial yoga classes in Prairie Village, please contact us and we will arrange a drop-in if there is space. Otherwise, our trial class is the perfect opportunity for students to get accustomed to aerial yoga!
Payment Policy
Before your child attends classes, we require that they register with their deposit paid. If you end up missing a few classes by the time you enroll, that's no problem. We allow late enrollment and prorated costs if space permits. Please contact us to arrange a late enrollment.
Contact Us Today!
We'd love to give you more information about Mindful Child Wellness and our offerings!